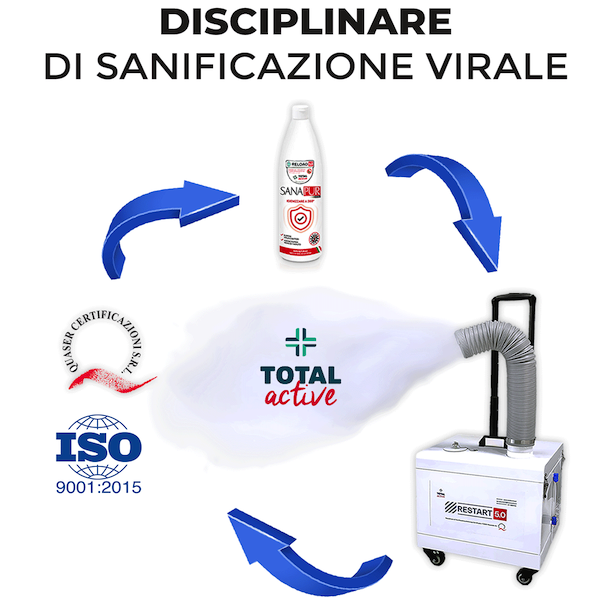 Medisport is pleased to announce the distribution for Italy of Total Active, the first self-managed sanitation system certified ISO 9001 2015. It is an innovative Medical CE device to sanitize environments and prevent the transmission of the SARS-COV2 virus in autonomy even in the presence of people. Compared to an external sanitation company with the ISO 9001/2015 certified self-managed sanitation Total Avtice protocol, you can decide when to sanitize the environments.
Total Active is a set of elements that includes:
1. A video course for the self-managed Protocol that will allow you to perform the procedure in a doctoral way and in total safety. At the end, the license and certification will be issued for the suitability to use the self-managed and certified sanitation protocol.
2. A wireless atomizing machine for the diffusion of the sanitizing solution on the surfaces
3. The sanitizing product Reload, a medical surgical device, 100% biodegradable that leaves no residues and that has passed the acute and chronic toxicity tests and has been declared non-toxic
ADVANTAGES
Eliminate viruses and bacteria
Sanitize in total autonomy even in the presence of animal people
Sanitize any surface, food material, pacifiers and teats in a few minutes without necessarily having to rinse
You save time and money
Safe for your health and that of others
Respect the environment by using 100% biodegradable products

CONTACT US FOR MORE INFORMATION
Tel. 0773636100
Email: info@medisport.it